"MAKING A DIFFERENCE" In The Lives Of The Seniors Of Our Community
It's a privilege to contribute to the care and well-being of the seniors who helped build the Townships communities in which we live. After all, they looked after us as we grew up – they taught us, provided medical care for us, grew and sold us the food and goods we needed to live, repaired our cars and kept our roads open, and much more.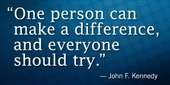 Now we have the opportunity to MAKE A DIFFERENCE in the lives of these special people as they live with the loss of their autonomy.
Grace Village staff, volunteers, visitors, donors - we can all make a difference in so many unique ways.  It's a career and a full-time calling  for some talented and dedicated individuals - and Grace Village is grateful for that!  For others it's an opportunity to volunteer to spend time with seniors, helping fight loneliness in their lives, taking them to events and appointments, helping those with more severe loss of autonomy to eat, and much more.
For those of you who truly care and want to make a difference but are not in a position to help directly with the seniors, there are many ways to financially contribute to enhancing their lives.
Large donations or small - they are all important!  Glance through the choice of funds and donor options below (click on the green highlighted text) to find a program that best fits your preferences and circumstances ... 
... larger or smaller gifts toward the remaining capital requirements of the new Grace Village Pavilion (click for details: Advancement Fund) ...
... gifts to support specific resident quality of life projects that are of particular interest you (click for details: Better Living Fund) ...
... ongoing pledges to help financially support residents who have challenges meeting their own monthly obligations (click for details: Dr. Klinck Fund) ...
... through Planned / Estate giving, donate life insurance policies, retirement plans, stocks / securities  etc., requiring no upfront cash but yielding substantial tax benefits for you ...
... through Gifts-in-Kind, donating articles such as equipment, art or book collections, machinery etc. per Canada Revenue Agency valuation and receipting guidelines ...
... even committing to an ongoing monthly pledge equivalent to the cost of a cup of coffee a day.
... there are several ways to submit / process your donation - choose the one that best suits your needs.
Your generosity and concern for our seniors can take many different forms but they all have the same result - they truly MAKE A DIFFERENCE in the lives of people in our community who deserve it!